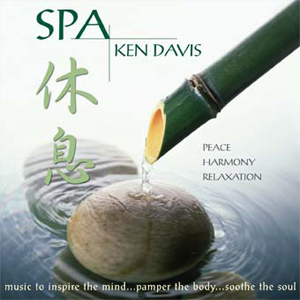 The Most Popular SPA CD In Many Countries Of The World

The Most Downloaded Spa Release In The World ! Just Listen To Samples Below!
Ken Davis has created yet another selection of beautiful music for your Spa time as well as for relaxation, stress relief & listening pleasure. Relax unwind at the end of the day in your SPA or pool or SPA healing centre to melt away stress or to just simply inspire your inner most feelings. Inspirational melodies of Pan Flute, Piano and orchestral arrangements will uplift you mind body spirit. This is the most popular Spa release in over 50 Countries!
Spa Therapy – Lifestyle – Spa People
Luxury Spas relax and revitalise body mind and spirit with the body immersed in water, listening to your favourite soothing beautiful music creates a stress free and healthy environment. Your inner world opens up to connecting to your higher self creating a blissful peaceful atmosphere, the secret to balance your emotions and so creating better health. You may wish to choose a gentle massage or beauty treatment to pamper yourself after your Spa.
Genre: 
Spiritual, Inspirational