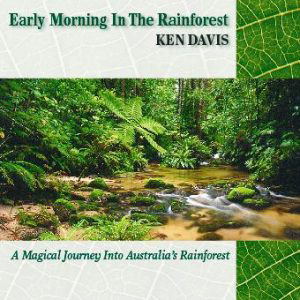 The First & Original Rainforest Release In The World!
Genuine Australian Rainforest Sounds & Gentle Crystal Piano

Early Morning In The Rainforest – By Ken Davis (CD)
Early Morning In The Rainforest
The First And Most Popular Rainforest Release In The World!
More Than  400,000 Sales World Wide!
This was the first rainforest release in Australia. Gentle piano melodies and nature sounds are ideal for relaxation and meditation as well as Tai Chi. Many women have played this gentle music through pregnancy and during the birth.
Click Here To View Clip
We need to protect our rainforests throughout the world. Recycle whenever and wherever possible!
Genre: 
Spiritual, Inspirational