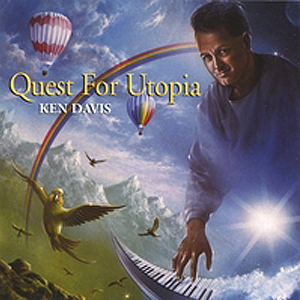 Quest For Utopia – By Ken Davis
Is one of Kens finest releases of melodic relaxation music. Enjoyed by people of all ages! A Must For Your Collection Or Listen  Any Where In The World Streaming !
Enter the "Tranquil Garden" and experience nature sounds and gentle melodies. "Raindrops" will calm and relax you through its gentle movements. Ocean sounds with soothing orchestral arrangements create a feeling of calm and well-being.
"Dreamscapes" and "A Way of Life" were recorded live at the Sydney Opera House.
"Each time I play Quest I'm inspired and uplifted. You are a gifted composer with the ability to take people to this higher place. I look forward to hearing more of your music in the near future.
Jack Dempsey from Kempsey, NSW, Australia 2018
Genre: Easy Listening: Mood Music